December 13, 2021
Posted by:

Team LCAB

Category:

News, WDLCAB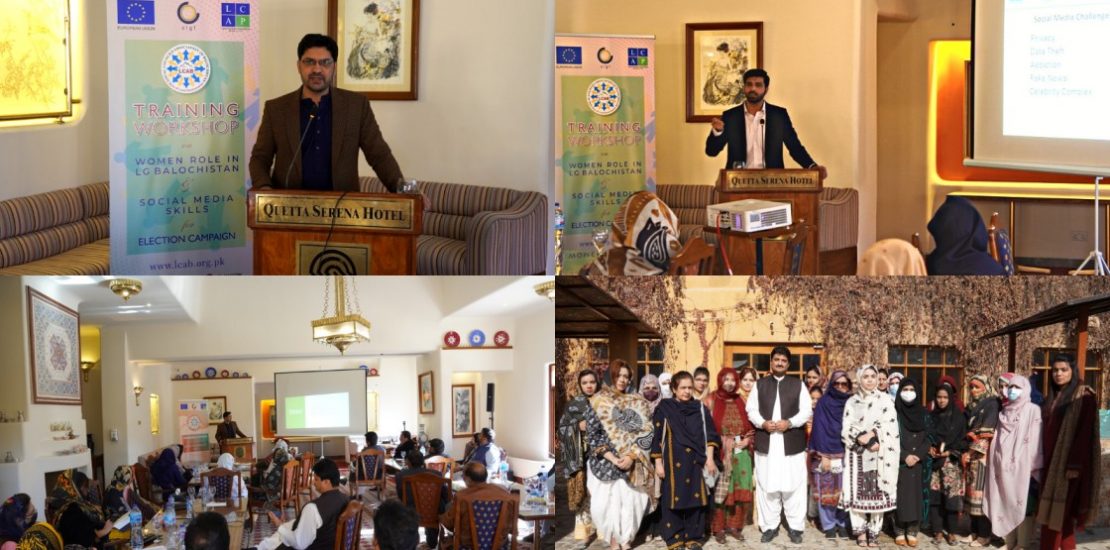 Objectives:
1) Awareness session on Local Government Balochistan Act 2010 and comparison with Amended Act 2019
2) Functional skills to use smartphones and internet applications for political activities and campaigns.
Analysis:
Women councillors in Balochistan are not well aware of their roles and responsibilities and policies of local government. Also, the usage of mobiles and media have a crucial and increasing role in shaping the image of councillors and increasing their political participation. The workshop was divided into two sessions;
A- Women Role in Local Government Act Balochistan 2010
Chief Officer Local Government Balochistan Mr Ali Satakzai facilitated this session and made our councillor's clear about all misconceptions.
The session was started with the main features of the Local Government Act Balochistan 2010 that includes all details regarding women. The topics covered in detail in this session are;
1- Composition of Local Government
2- Representation of Women in Local Government Act Balochistan 2010
3- Election Methods
4- Qualifications of Councillors
5- Functions of Councils
Describing each topic in detail, he made a comparative analysis in reference to Amended Act 2019. Mr Ali Satakzai not only explained the features of the Local Government Act but also motivated women councillors with inspirational facts. He highlighted the fact that women councillors should step forward and participate more at the local government level as the criteria is easy as compared to the national level and also women are more aware of grassroots situations and issues as they are the most closed users of these resources such as electricity, health, wastes, water etc.
He also emphasized voting procedures that women councillors should learn voting methods, current councillors should motivate the women of their councils to step outside for voting and be supportive of their women leaders.
B- Digital Literacy & Social Media Skills
Digital Media is an everyday communication tool for councillors and is very useful in communicating information about councillors' activities.
Communication and Media Officer, Mr Umar Imtiaz Rana delivered a lecture on basic principles of digital media, that includes;
1- How digital media works today (Social Media & other tools)
2- Functional skills to use mobile phones and internet applications
3- How to engage with digital media
4- How to avoid media difficulties (certain cybercrime facts)
As a percentage of literacy rate in Balochistan is the lowest in Pakistan, similarly, the awareness and knowledge of using mobile phones are very less in Balochistan. Mr Umar Imtiaz Rana explained the uses of social media, discussed reasons that prevent women to use it and encouraged councillors in building capacity in Media Skills. He trained the participants to engage with digital tools as a post-COVID resilience to continue their work through virtual platforms.
Outcomes:
1) Participants were aware of their role & Responsibilities in Local Government Balochistan and Election methods.
2) They had an improved understanding of Media usage, how to keep themselves up to date about the latest developments, how to figure out and solve cyber issues and how to increase their visibility in Local Government through Media usage.